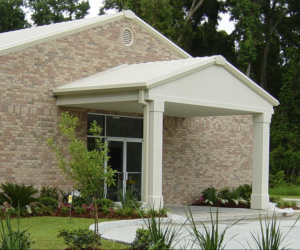 "If the Lord will" the 2022 Fellowship Meeting will be held Monday, June 20th, through Sunday, June 26th at
Worldwide Apostolic Ministries CHURCH OF JESUS CHRIST
3613 Barataria Boulevard, Marrero, Louisiana 70072


If you cannot join in person, then join the fellowship using one of these easy options:
1) One Tap Mobile Dialing: +14129247121,,571642
2) Tap here to have us call you: https://www.freeconferencecall.com/backup?dial_number=4129247121&access_code=571642
3) Join online for Video and Screen Sharing: https://join.freeconferencecall.com/wwamcojc


THEME OF THIS YEAR'S FELLOWSHIP MEETING: "PROPHECY"
"And he saith unto me, Write, Blessed are they which are called unto the marriage supper of the Lamb. And he saith unto me, These are the true sayings of God. And I fell at his feet to worship him. And he said unto me, See thou do it not: I am thy fellowservant, and of thy brethren that have the testimony of Jesus: worship God: for the testimony of Jesus is the spirit of prophecy." (‭‭KJV Revelation‬ ‭19:9-10‬)
"And he said unto them, These are the words which I spake unto you, while I was yet with you, that all things must be fulfilled, which were written in the law of Moses, and in the prophets, and in the psalms, concerning me." (KJV ‭‭Luke‬ ‭24:44‬) Note: 'all things' are the prophesies about Jesus!
ORDER OF SERVICE (CST)
Monday, June 20, 2022 at 7 PM Night Service
Tuesday, June 21, 2022 at 7 PM Night Service
Wednesday, June 22, 2022 at 7 PM Night Service
Thursday, June 23, 2022 at 7 PM Evening Worship Service
Friday, June 24, 2022 at 6 PM Bible Study; 7 PM Evening Worship Service
Saturday, June 25, 2022 at 6 PM Bible Study; 7 PM Evening Worship Service
Sunday, June 26, 2022 at 9 AM Bible Study; 10 AM Morning Worship Service; 6 PM Evening Worship Service